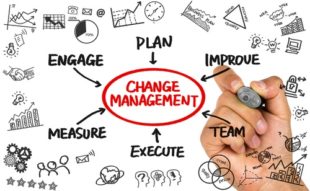 Organizational change occurs when an organization plans a transition from its current state to a desired future state. Change is at times thrust on an organization without its proactive planning. Unfortunately over two thirds of change projects fail due to various reasons. Our goal is to help our clients maximize the effectiveness of their change process.
Our change projects focus on the processes, tools, and techniques needed to manage the process side as well as the people side in order to achieve the best business outcomes. We focus our efforts on three levels within the organization namely leadership, process, and performer.
MANAGING CHANGE EFFECTIVELY
There are many moving parts to an effective change initiative. Our deep experience and consultative approach helps us guide our clients through the entire change process and in the proper sequence. Broadly speaking, the key milestones in a successful change project include:
1) Understanding the Organization's current state. This involves identifying weaknesses and challenges the company faces, and assessing the kinds of changes needed to align with the organizational goals.
2) Working with internal managers and key employees to help envision the desired future state of the organization. Involving key individuals as change agents and influencers is a crucial step in a successful change project. Managing staff's natural change "anxiety" is also critical at this stage.
3) Implementing change initiatives in a logical and well-planned manner and celebrating with employees at key milestones. The commitment to successful change is in large part a function of employee involvement, copious communication, and management buy-in. Recognition and communication help pave the way for ongoing success as key change targets are met.
A successful change management project can have lasting benefits for an organization and its employees. Conversely, a failed transformation project can have serious consequences on a company's bottom line. Contact us today to find out how our change management consultants can help your organization.