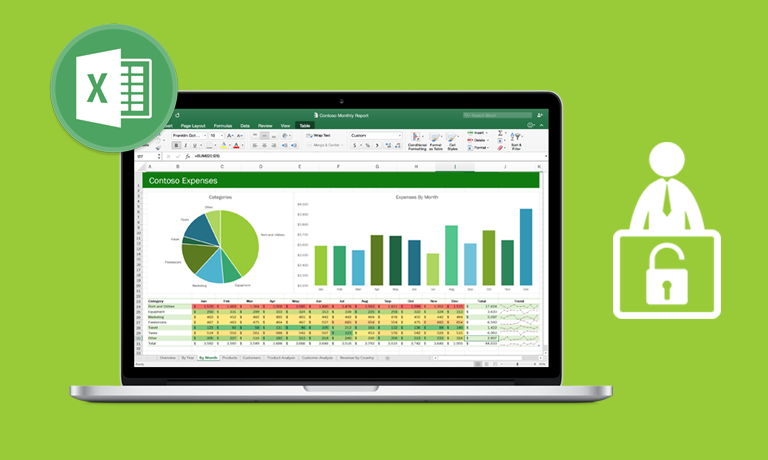 Instructors
Practical Excel 2016 for the Workplace – Intermediate and Advanced
Practical Excel 2016 for the Workplace – Intermediate and Advanced
COURSE DESCRIPTION
This course takes up where the Excel 2016 Fundamentals course leaves off. It covers a wide variety of Excel topics, ranging from intermediate to advanced level. You will learn a wide variety of Excel functions, tips for creating readable and correct formulas, a number of useful data analysis tools, how to import external data into Excel, and tools for making your spreadsheets more professional. To learn Excel quickly and effectively, download the companion exercise files so you can follow along with the instructor by performing the same actions he is showing you on the videos.
Category: Office Productivity/Microsoft
What are the requirements?
What am I going to get from this course?
Over 5 hours of video content, plus an Excel add-in for premium subscribers
How to use intermediate to advanced Excel functions from various categories (counting/summing/averaging, math, text, date/time, statistical, financial, reference, and logical) to solve practical problems
More advanced tips for working with formulas, including formula auditing and formula evaluation
How to use Excel's many powerful tools for data analysis, including tables, pivot tables, data tables, Goal Seek, and Solver
How to use Excel's tools for importing external data from databases, text files, and the Web
How to use a number of intermediate to advanced tools for adding professional touches to your spreadsheets, including data validation, workbook/worksheet protection, scenarios, form controls, and recording macros
An introduction to several tools new to Excel 2016, including Flash Fill for text pattern recognition and several data analysis tools (Quick Analysis, the Excel Data Model, and the PowerPivot and Power View add-ins)
What is the target audience?
Any competent Excel users who aspire to becoming Excel "power users"
Course Reviews
1 stars

0

2 stars

0

3 stars

0

4 stars

0

5 stars

1